Garland Pollard is a writer, web content editor and search engine strategist who believes that the word is the center of any online project or effort. A contract web editor and freelance business and travel writer, he has two decades of experience across all media, including newspapers, TV, radio, magazines and the web.
From 2011-2021 he was communications director for the Episcopal Diocese of Southwest Florida. His website BrandlandUSA.com chronicles the business of America's great legacy brands, and is the only website entirely dedicated to heritage brands. He also assists his wife, Alice, with her restarted legacy fashion brand Jack Tar Togs, the circa 1916 original maker of the sailor suit.
Started at an NBC Affiliate
After summer internships at the Portsmouth NBC affiliate WAVY-TV 10, he began in newspapers at Richmond's Style Weekly, where he wrote a pop culture and local interest column, as well as features. After Style Weekly, he revived the 150-year-old broadsheet newspaper The Richmond State, which was a leading newspaper in Richmond from the Civil War until the early 20th century. The new State, co-founded with Richmond attorney Benjamin P. A. Warthen, covered politics, society and culture in Richmond. He has worked as a staff editor at The Progress-Index in Petersburg, where he redesigned the weekly real estate section and edited the business page.
He covered the National Aeronautics and Space Administration Langley and Northrop Grumman Newport News Shipbuilding as transportation and technology reporter at Dolan's Virginia Business Observer in Norfolk, and real estate and urban planning at Richmond's Inside Business. At Inside Business, he won Virginia Press Association awards and created comprehensive survey of Richmond Brand Names. He wrote a definitive history of the then-threatened Reynolds Metals EXO headquarters building that helped bring attention to the value of the Gordon Bunshaft building, which was under threat of demolition for a big box store. The modernist gem of Skidmore Owings and Merrill building is now the headquarters of Philip Morris U.S.A.
In Virginia, he was the launch editor of Virginia Living, the magazine about Virginia that debuted in November 2002. The magazine proved the viability and relevance of old-style, large-format magazines like Look and Life in a time of web ascendancy.
Web Migration and Corporate Work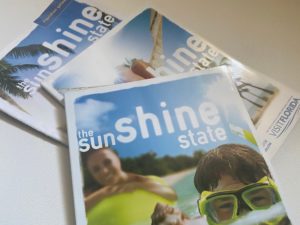 He was also senior editor for the Visit Florida family of products at Miles Media in Sarasota, Florida, where he revamped their 60-year-old Official Florida Vacation Guide and a some ancillary publications. He also supervised the editorial side of the re-launch and entire content migration of their multimedia website, VisitFlorida.com, including pilot videos and the hiring of a slate of multimedia reporters.
After leaving, he worked as a contract web consultant, case study writer and product researcher for non-profit and corporate clients, including fields such as banking, pharmaceuticals, medical recalls and ICD-10. He also served as web content manager for Capital One in Richmond. For almost 10 years, he was Director of Communications for the Diocese of Southwest Florida, where he led websites , video and social media for 77 churches in Southwest Florida.
Historic Preservation
His volunteer interest is historic preservation and historic brands, and speaks regularly to groups on these subjects. He has had a long support of the Association for the Preservation of Virginia Antiquities, where he served on the board of its Historic Richmond branch. With the critical support of the APVA, he helped to save two important neoclassical Richmond buildings, the Second Baptist Church and the gilded age Hotel Richmond, seen here.
The Hotel Richmond is now the Barbara Johns office building, named for a civil rights pioneer. The hotel was built in 1904 by Adeline Detroit ("Addie") Atkinson, a self-made businesswoman who secured financing from banking magnate J.P. Morgan to fund the project. Historic Richmond funded the building study that made the case for its preservation.
A native of Virginia Beach, he attended The Norfolk Academy and graduated from Woodberry Forest School. He attended the College of William & Mary, Virginia Commonwealth University and holds a bachelor's degree from the University of Richmond. He is blessed with three daughters, and wife, Alice..
Some Portfolio Items
For the 50th Anniversary of the Diocese of Southwest Florida, we scoured our archives for images that showed the story of Southwest Florida's Episcopal Churches. Sorted by…