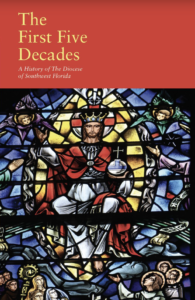 For the 50th Anniversary of the Diocese of Southwest Florida, we scoured our archives for images that showed the story of Southwest Florida's Episcopal Churches.
Sorted by decade, they tell the story of The Episcopal Church in Southwest Florida over a half century. Pictured below, Presiding Bishop the Most Rev. Michael Curry, speaking at convention, with panels below. Curry was fresh off his position as the celebrant at the wedding of Prince Harry and Meghan Markle, which unlocked local television and print attention.
In addition to logos and shirts, I produced a companion history book, The First Five Decades, using corporate archives.